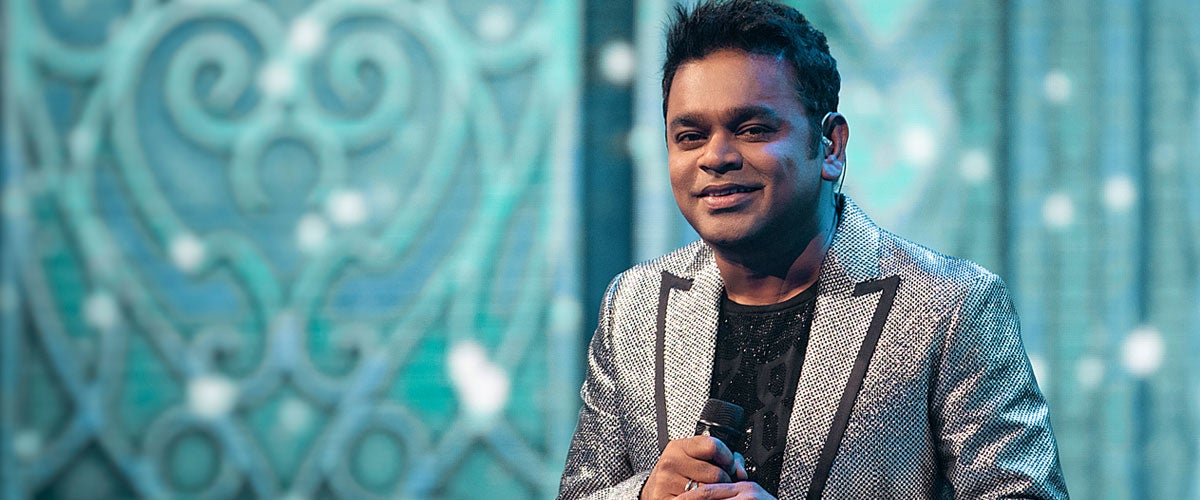 A.R. Rahman
Date

Aug

26

, 2022

Event Starts

8:00 PM

Venue

Wang Theatre

Ticket Prices

Start at $64.70

Availability

On Sale Now
Showings
Event Details
A.R Rahman's work gained global prominence with the extraordinary success of his score for Slumdog Millionaire that won him two Academy Awards for Best Score and Best Song. Rahman won over 15 awards for this score including two Grammys, the Golden Globe and the BAFTA. Rahman is in the process of setting up India's native Symphony Orchestra, through the AR Rahman Foundation and KMMC, nurturing young musicians to excel in music.
Rahman wrote the music for "Bombay Dreams," produced by Lord Andrew Lloyd Webber, grossing remarkable numbers at London's West End and Broadway. Notably, he also composed for the stage musical, "Lord of The Rings," along with the Finnish band, Varttina.
A. R. Rahman is popularly known as the man who has redefined contemporary Indian music. Rahman has scored for more than 150 projects, comprising of music in multiple languages, including landmark scores such as Roja, Bombay, Dil Se, Taal, Lagaan, Vandemataram, Jodhaa Akbar, Slumdog Millionaire, 127 Hours, Rockstar and many more. Rahman pursued music as a career at a very young age taking after his father who was a composer and arranger in South India. After assisting leading musicians in India, Rahman went on to compose jingles and scores for popular Indian television features. He also obtained a degree in western classical music from the Trinity College of Music, London. The composer is a six-time recipient of the Indian National Award and has acquired 32 Filmfare awards to his credit.
He is currently experimenting and researching on undisclosed projects based on Indian Classical music, finding ways to pass it on to the future generations. The KM Music Conservatory, under the able administration of his sister, Fathima Rafiq, imparts holistic education in western and Indian music and music technology.
He is noted for collaborating with numerous international artists, like Coldplay, Mick Jagger, Dave Stewart, Nusrat Fateh Ali Khan, Sami Yusuf, his latest collaboration with U2 and his daughters, Khatija Rahman and Raheema Rahman singing the ancient Tamil Couplets from Thirukural, resulting in the globally acclaimed single "Ahimsa," commemorating 150 Years of Mahatma Gandhi.
Currently, AR Rahman is working with Expo 2020 Dubai, having setup a state of the art recording facility, called "The Firdaus Studio," and mentoring an all-women orchestra comprising of incredibly talented musicians from over 23 nationalities called "The Firdaus Orchestra." AR Rahman joins hands with Shekhar Kapur and Expo 2020 Dubai to present "Why? The Musical," an audio visual musical spectacular which premiered at the iconic Al Wasl Plaza in early 2022.
VIP Soundcheck Information
VIP Soundcheck: $150 above ticket price plus service charges. Available on all price levels.
Fans who purchase the VIP Soundcheck Ticket gain EARLY ACCESS to the venue to watch a portion of soundcheck/rehearsal. Early Access will begin 75 minutes before doors open to regular ticket buyers. AR (solo or with band) will perform 2 - 3 songs. This VIP offer allows fans an EXCLUSIVE experience that AR has never offered before. VIP attendees will receive a commemorative tour laminate as part of the package.
Please be aware that our Covid-19 Policy and Safety Measures have changed per the revisions to the City of Boston's vaccine requirement for certain indoor spaces. Unless required by a specific Artist or attraction, we no longer require proof of vaccination against Covid-19 or masks in our facilities.
PLEASE NOTE: Restrictions and safety protocols may vary by performance. Be sure to check here prior to each performance and to carefully read our pre-performance emails for important information pertaining to your event. Certain artists and performances may still require proof of vaccination for entry.
By purchasing tickets to this event, you agree to abide by these, and any other, health and safety measures that may be in effect at the time of the event. Please continue to check our venue website for updates to your event as guidelines are subject to change.