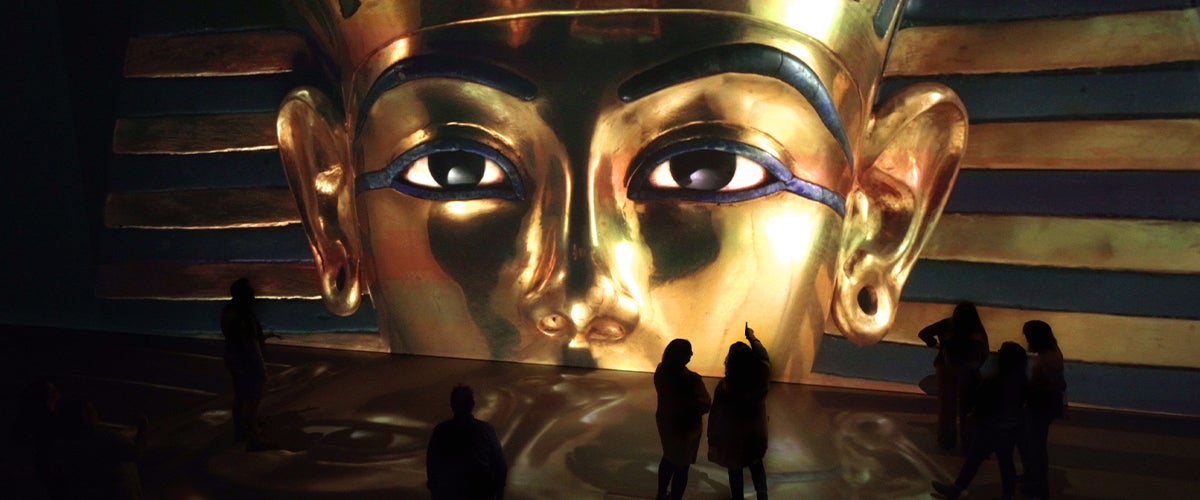 Beyond King Tut: The Immersive Experience
At SoWa Power Station
Date

July

8

, 2022

Event Starts

TBA

Venue

Boch Center

Ticket Prices

Start at $26

Availability

On Sale Now
Showings
Event Details
A hundred years after the legendary discovery of Tutankhamun's tomb in Egypt comes National Geographic's Beyond King Tut: The Immersive Experience, exclusively at the SoWa Power Station in Boston. Produced in partnership with the National Geographic Society, Beyond King Tut takes visitors on an immersive cinematic journey to Egypt to witness ancient wonders of the world.
Through six distinct galleries and chapters, Beyond King Tut: The Immersive Experience unlocks the 3,300 year-old story of King Tut in an evolution of immersive show experiences. Journey to modern-day Egypt and see wonders of the ancient world like the Temple at Karnak and the Great Sphinx. Experience ancient history come to life and gaze at the Egyptian sun as it rises above the Pyramids of Giza, filling the sky with vivid color. Travel back in time to the 18th dynasty when King Tut ruled and gods like Ra and Anubis were worshiped by all.
Descend into King Tut's tomb, 100 years since its historic discovery, and join King Tut in his quest for immortality. Experience all of this and more at Beyond King Tut: The Immersive Experience, a story over 3,000 years in the making!
LOCATION
SoWa Power Station
550 Harrison Ave
Boston, MA 02118
HOURS OF OPERATION (Starting July 8 - October 2)
Sunday-Thursday: 10am-9pm (final entry 8pm)
Friday and Saturday: 10am-10pm (final entry 9pm)
DURATION
The visit will take approximately one hour with final entry one hour prior to show close. The experience is self-guided so stay as long as you like!
FREQUENTLY ASKED QUESTIONS
Click HERE to plan your visit.