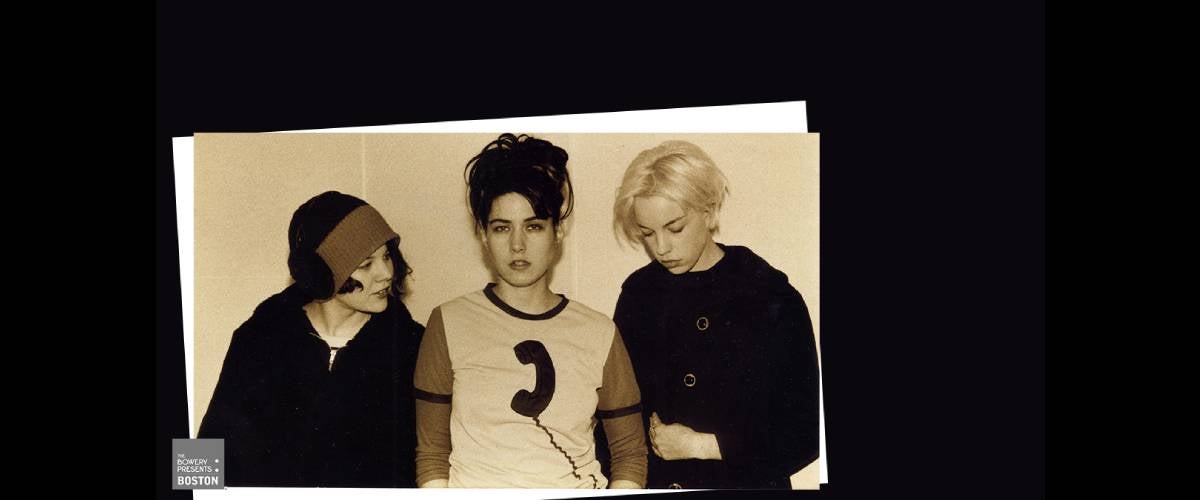 Bikini Kill
With special guest Alice Bag
Date

July

15

, 2022

Event Starts

8:00 PM

Venue

Wang Theatre

Ticket Prices

Start at $29.75

Availability

On Sale Now

Pre-order Drinks

Parking
Showings
Event Details
Bikini Kill will take the Boch Center Wang Theatre stage on July 15, 2022! This show will feature opener Alice Bag.

Bikini Kill is a feminist punk band that was based in Olympia, WA and Washington, DC, forming in 1990 and breaking up in 1997. Kathleen Hanna sang, Tobi Vail played drums, Billy Karren (a.k.a. Billy Boredom) played guitar and Kathi Wilcox played bass. Sometimes they switched instruments. Bikini Kill is credited with instigating the Riot Grrrl movement in the early 90's via their political lyrics, zines and confrontational live show.

The band started touring in June 1991. In addition to touring the US several times, they also toured Europe, Australia and Japan. Bikini Kill recorded and released a demo tape, two EP's, two LP's and three singles. Their demo tape was self-released,while their first two records came out as a full length CD/Tape and their singles were posthumously collected on CD.

Bikini Kill believed that if all girls started bands the world would change. They actively encouraged women and girls to start bands as a means of cultural resistance. Bikini Kill was inspired by seeing Babes in Toyland play live and attempted to incite female participation and build feminist community via the punk scene. They used touring as a way to create an underground network between girls who played music, put on shows and made fanzines. This independent media making and informal network created a forum for multiple female voices to be heard.

Bikini Kill reunited in the Spring of 2019 with original members Kathleen, Kathi, and Tobi who were joined live by Erica Dawn Lyle. They sold out multiple shows in Los Angeles, NYC, and London as well as headlining Riot Fest in Chicago.
Please be advised that Bikini Kill rescheduled for the Wang Theatre on October 8, 2021 has been rescheduled to a new date on July 15, 2022. Your original tickets (2020 or 2021) will be automatically transferred to the new date July 15, 2022. For shows that have been postponed/rescheduled due to the impact of the coronavirus AEG Presents will be offering ticketholders the opportunity to obtain refunds. Refund requests will be honored for any postponed show, once the rescheduled date has been announced. Ticketholders will have 30 DAYS to request a refund on all rescheduled shows. To contact Ticketmaster customer service, please call 800-982-2787.

Please note that there will be a delay in refunds with Ticketmaster due to the volume of refund requests they have right now across the country. For tickets purchased in-person with a credit card at our box office, please email info@bochcenter.org for a refund. If you purchased with cash in person at the Box Office, you will need to bring your tickets as proof of purchase to the box office to receive your refund. At this time, our box office is open Monday- Friday from 12pm-6pm.

The health and safety of our patrons, staff, and performers are of the utmost importance to us. This is a unique time in our community and we appreciate your understanding of this matter. With the changing nature of the response to coronavirus, please check our emails, social accounts, and visit https://www.bochcenter.org/COVID19 for updates.

The arts are fundamental to a healthy community. While the full financial impact of COVID-19 is to be determined, we know we will be impacted in unprecedented ways. We are also confident that with your ongoing support we will emerge from this with a renewed resilience and unwavering commitment to bringing the very best live entertainment and award-winning free arts programs to the community. Please consider supporting the arts, education, and live performance through a donation at https://www.bochcenter.org/donate.

We will be open soon! Please be safe and stay healthy.
At the request of the Artist, patrons will be required to show proof of full vaccination and wear masks for this event.
By purchasing tickets to this event, you agree to abide by these, and any other, health and safety measures that may be in effect at the time of the event. Please continue to check our venue website for updates to your event as guidelines are subject to change.