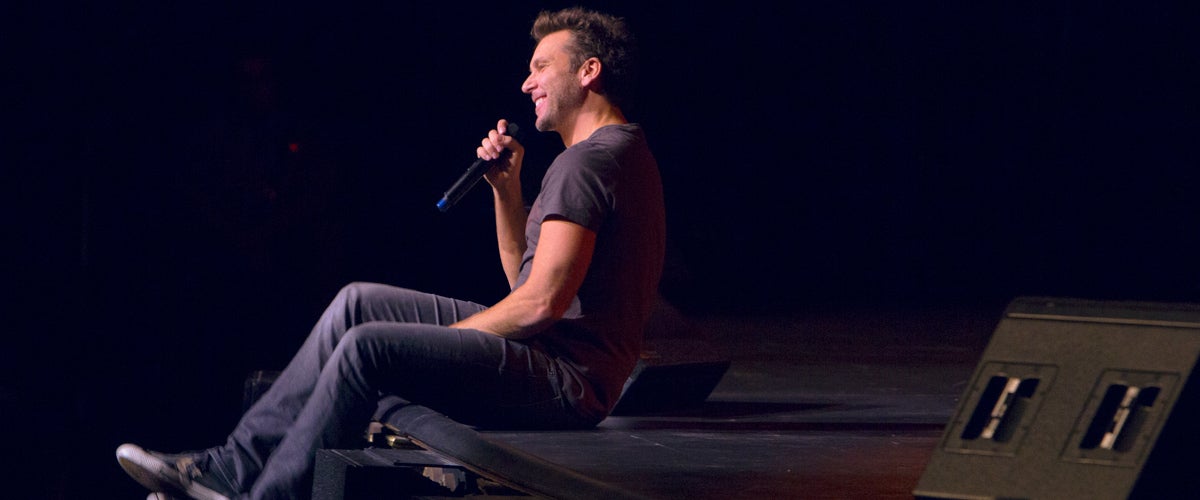 Dane Cook
Date

Apr

23

, 2022

Event Starts

8:00 PM

Venue

Wang Theatre

Ticket Prices

Start at $39.50

Availability

On Sale Now

Pre-order Drinks

Parking
Showings
Event Details
As a staple in the stand-up community, Dane Cook has fostered a reputation as one of today's most prolific stand-up comedians, while simultaneously distinguishing himself as a charismatic and versatile actor in a variety of film and television projects.

This year marks Cook's 30-year run as a stand-up comedian with hit comedy specials such as "Vicious Circle," "Isolated Incident" and "Rough Around the Edges." His upcoming comedy special, "Tell It Like It Is," is the perfect commemoration to an incredible career over the past three decades and what is sure to be another memorable year ahead. Cook recently wrapped his national "Tell It Like It Is" tour for which he visited more than 40 cities in the United States for 90 minutes of non-stop laughter including dynamic performances at Radio City Music Hall and the Dolby Theater.

On the film side, Cook recently directed, co-wrote, produced and starred in "American Typecast," a short film that follows a Middle-Eastern actor, Malik Khan, as he attempts to acclimate to the entertainment industry and seeks to break through his racial stereotype while struggling to stay afloat as a working actor. The film was accepted into a number of film festivals including the Los Angeles Shorts International Film Festival, the Santa Barbara International Film Festival and the HollyShorts Film Festival, to name a few.

Additionally, in 2019, Cook starred in the Lionsgate fast-paced thriller, "American Exit," based on a true story about a dying man's attempt to reconnect and bond with his estranged son (Levi Miller, "A Wrinkle in Time"). His other film credits include starring roles in "My Best Friend's Girl" opposite Kate Hudson, "Dan In Real Life" opposite Steve Carell and "Mr. Brooks" opposite Kevin Costner.

In 2017, Dane was seen in the critically acclaimed Starz series, "American Gods," in a stand-out role opposite Betty Gilpin and Ricky Whittle.

Cook currently resides in Los Angeles.
Please be aware that our Covid-19 Policy and Safety Measures have changed per the revisions to the City of Boston's vaccine requirement for certain indoor spaces. Unless required by a specific Artist or attraction, we no longer require proof of vaccination against Covid-19 or masks in our facilities.

PLEASE NOTE: Restrictions and safety protocols may vary by performance. Be sure to visit your specific show's event details page immediately prior to each performance and to carefully read our pre-performance emails for important information pertaining to your performance. Certain artists and performances may still require masks and/or proof of vaccination for entry.
By purchasing tickets to this event, you agree to abide by these, and any other, health and safety measures that may be in effect at the time of the event. Please continue to check our venue website for updates to your event as guidelines are subject to change.
Please be advised that the performance of Dane Cook at the Wang Theatre on October 29 has officially been cancelled. Tickets are on sale now for his new Boston performance date on April 23 at 8:00pm.
The performance of Dane Cook scheduled for the Wang Theatre on October 30 has been postponed. Your tickets will be honored on the newly rescheduled date, April 23, 2022 at 8:00pm. If you wish to obtain a refund, they are available at your point of purchase.
Refunds are available at your point of purchase. All online and phone purchases via Ticketmaster will be refunded automatically, as well as any purchases with a credit card in person at the box office. If you purchased tickets with cash in person at the Box Office, you will need to bring your tickets as proof of purchase to the box office to receive your refund. Box Office hours are Tuesday-Saturday 12pm-6pm.
To contact Ticketmaster Customer Service, please call 800-982-2787.
STATEMENT FROM DANE:
"Boston, this show and taping mean so much and I want to do it the right way for you all. I've heard you loud and clear and we are going to be rescheduling this one for down the road when we can have a great show and we can enjoy it together -- being able to see all of your laughing faces, many who I've known since I was kid trying to get any gig I could when I was first starting out and earning my stripes.
We'll make it worth the wait and one to remember."