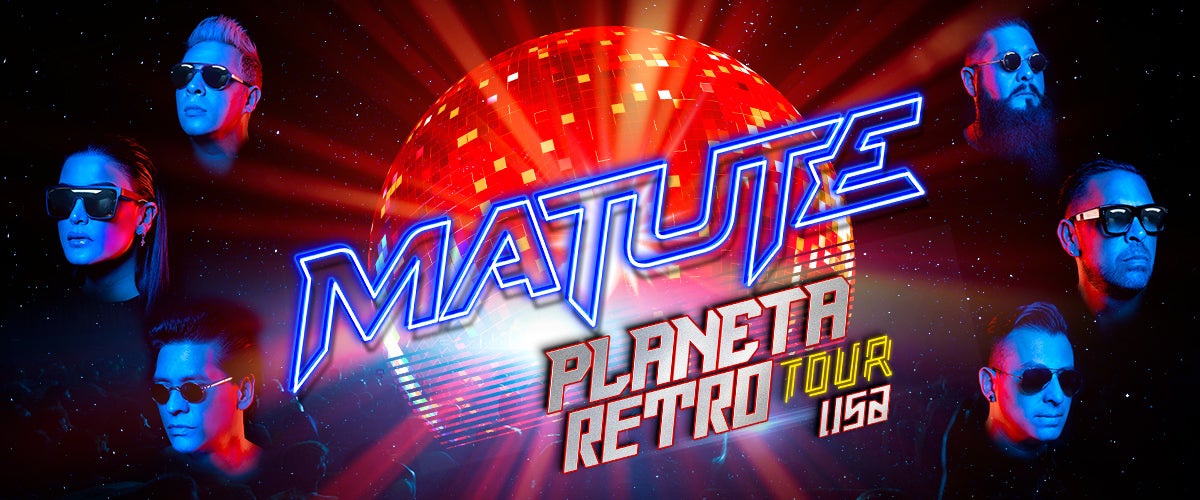 Matute
Planeta Retro Tour
Date

Mar

4

, 2022

Event Starts

9:00 PM

Venue

Shubert Theatre

Ticket Prices

Start at $43

Availability

On Sale Now

Parking
Showings
Event Details
Matute is a Mexican pop "covers" group formed in 2007. The sextet is led by singer and producer Jorge D'Alessio. Conceived as an act to pay tribute to the music of the '80s from both English and Spanish-speaking acts, their repertoire consists of bilingual versions of hits from the era, often in medley format. D'Alessio created the group after coordinating sponsored musical tours for a major refreshment company, where he met many musicians and singers.
TRADUCCIÓN EN ESPAÑOL:
Matute es un grupo Mexicano de "covers" que se formó en el 2007. El grupo de seis son fronteados por el cantante Jorge D'Alessio y se dedican a cantar música atribuida a la era de los 80's. Su reportorio consiste en versiones bilingües de esta era, muchas veces en forma de medley. D'Alessio empezó el grupo después de muchos años coordinando giras musicales para una empresa de refrescos, donde conoció muchos artistas y cantantes.
PLEASE NOTE OUR POLICY UPDATE FOR JANUARY 15, 2022: In the best interest of fans and staff, The Boch Center requires ALL patrons to be fully vaccinated in order to attend a performance, per City of Boston new vaccine requirement for indoor spaces. Proof of vaccination and matching photo ID will be required prior to entry (photo of vaccination card is acceptable). Masks will be required for all guests per City of Boston requirements. By purchasing tickets to this event, you agree to abide by these, and any other, health and safety measures that may be in effect at the time of the event. Please continue to check our venue website for updates to your event as guidelines are subject to change.
Regla De Vacunación y Entrada
POR FAVOR TOMAR EN CUENTA NUESTRA NUEVA REGLA DE ENTRADA: El Boch Center requiere que TODOS espectadores estén completamente vacunados contra Covid-19, según el nuevo requerimiento de vacunación para espacios interiores de la ciudad de Boston. Prueba de vacunación acompañada con una foto de identificación serán requeridas antes de entrar (foto de tarjeta de vacunación es aceptable). Mascaras también serán requeridas para todos espectadores por orden de la ciudad de Boston. A través de su compra de boletos para este evento, usted acepta cumplir estas, y todas otras, reglas de salud y seguridad que podrán estar en efecto a cualquier tiempo para este evento. Por favor revise nuestra página de teatro en línea para obtener nueva información sobre este evento ya que las reglas serán sujetas a cambios.