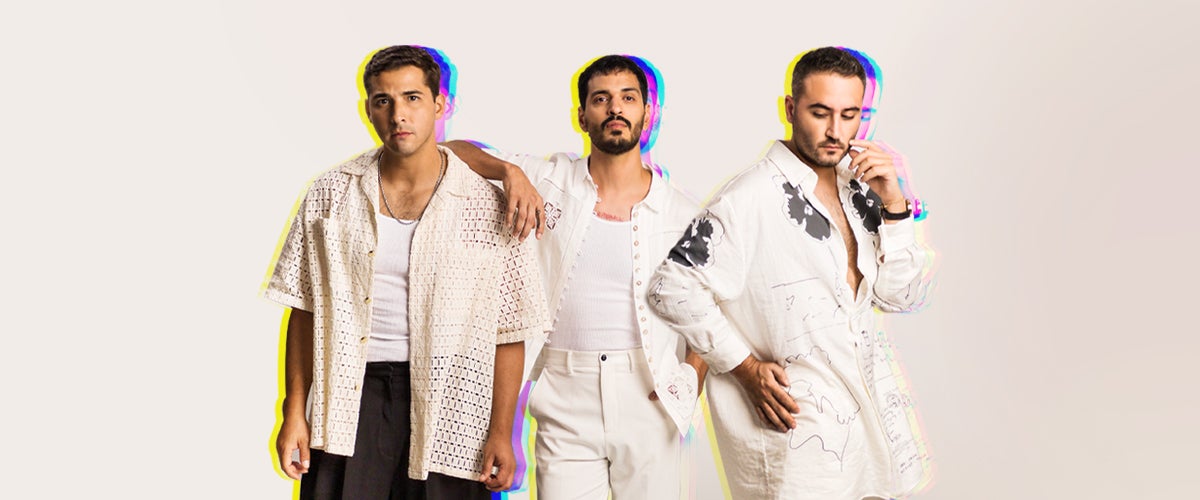 Reik
En Cambio USA Tour
Date

June

3

, 2022

Event Starts

8:00 PM

Venue

Wang Theatre

Ticket Prices

Start at $59.99

Availability

On Sale Now

Parking
Showings
Event Details
El nombre, Reik, es fuerte y lleva peso. Prueba de ello son los cientos de conciertos que cada año ofrecen por toda Latinoamérica y Estados Unidos, los hits que han logrado en la radio y hasta las marcas internacionales que han solicitado su música para sus campañas publicitarias; nadie se imaginaría que aquellos tres jóvenes que llegaron de Mexicali, Baja California, hace aproximadamente 12 años, desarrollarían una carrera sólida y permanente de manera tan rápida.
Reik está conformado por Jesús Navarro (voz), Julio Ramírez (guitarra acústica) y Bibi Marín (guitarra eléctrica), tres jóvenes músicos, talentosos y con personalidad propia, atributos que les valió ganarse un lugar en la escena musical.
ENGLISH TRANSLATION:
The band name, Reik, is strong and carries weight. Proof of this are the hundreds of concerts they offer every year throughout Latin America and the United States, the hits they have achieved on the radio and even the international brands that have requested their music for their advertising campaigns; no one would imagine that those three young people who arrived from Mexicali, Baja California, approximately 12 years ago, would develop a solid and permanent career so quickly.
Reik is made up of Jesús Navarro (vocals), Julio Ramírez (acoustic guitar) and Bibi Marín (electric guitar), three talented young musicians with their own personality and attributes that earned them a place in the music scene.
Reglas de Salud y Entrada
Por favor tenga en cuenta que nuestras reglas de entrada y medidas de salud de Covid-19 han cambiado según las revisiones de la ciudad de Boston sobre el requerimiento de vacunación para espacios interiores. El Boch Center ya no requiere la muestra de tarjeta de vacunación o máscaras para atender un evento, a menos que lo requiera un Artista o el organizador del evento.
Restricciones y reglas de salud pueden variar para cada evento. Ciertos artistas aún pueden requerir muestra de tarjeta de vacunación antes de entrar. Por favor asegure de revisar esta página antes de su evento y de leer cuidadosamente nuestro correo electrónico de información previa cual contiene información importante sobre este evento.
Al comprar boletos para este evento, usted acepta cumplir estas, y todas otras, reglas de salud y seguridad que podrán estar en efecto a cualquier tiempo para este evento. Por favor revise nuestra página de teatro en línea para obtener nueva información sobre este evento ya que las reglas serán sujetas a cambios.
Please be aware that our Covid-19 Policy and Safety Measures have changed per the revisions to the City of Boston's vaccine requirement for certain indoor spaces. Unless required by a specific Artist or attraction, we no longer require proof of vaccination against Covid-19 or masks in our facilities.
PLEASE NOTE: Restrictions and safety protocols may vary by performance. Be sure to check here prior to each performance and to carefully read our pre-performance emails for important information pertaining to your event. Certain artists and performances may still require proof of vaccination for entry.
By purchasing tickets to this event, you agree to abide by these, and any other, health and safety measures that may be in effect at the time of the event. Please continue to check our venue website for updates to your event as guidelines are subject to change.