Boch Center's Wang and Shubert Theatres Partner Exclusively With Flymachine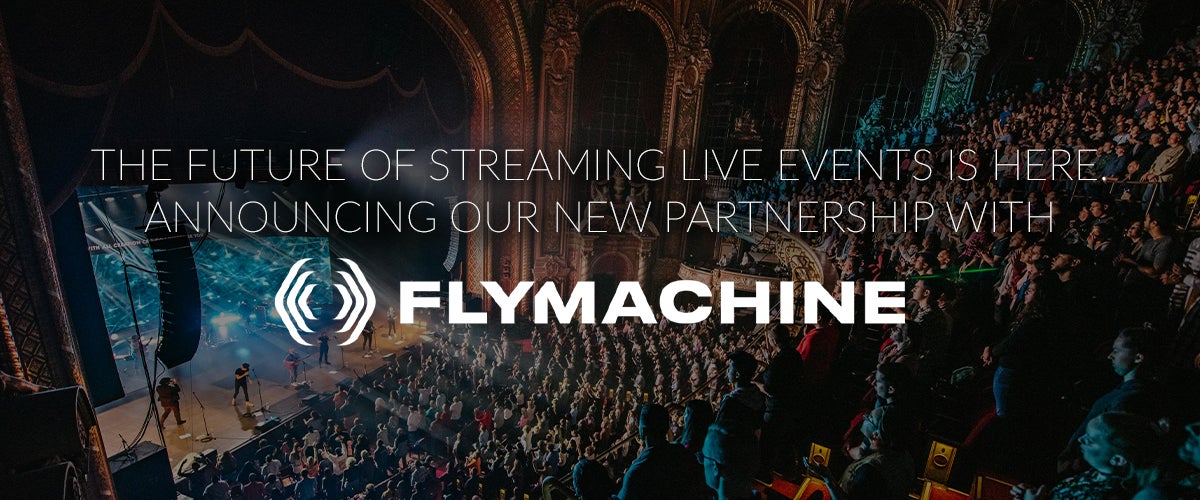 Today, the Boch Center, the home of Boston's historic Wang and Shubert Theatres announced an exclusive partnership with Flymachine, the new virtual venue for live entertainment that delivers a first-of-its-kind immersive social experience. This landmark partnership will allow them to livestream shows to loyal audiences all over the world.
President and CEO of the Boch Center Joe Spaulding expressed his excitement for the new partnership. "We searched for what we believed was the most technically advanced platform that harnesses interactive capabilities and provides an exceptional livestreaming experience. With the managing partners involved, Flymachine was the obvious choice."
It is central to the Boch Center's mission to be inclusive and accessible to the most diverse audiences possible. This new technology and partnership with Flymachine allows the Center to bring live concerts and events right into people's homes. "We understand that not everyone feels comfortable returning to in-person events and we're giving them a front row virtual seat in our iconic venues. How cool is that?" Spaulding continued.
Flymachine's collaboration with the Boch Center and its 3,500 seat Wang Theater and 1,500 seat Shubert Theatre represents a first-of-its-kind theatre partnership, integrating a national historic performing arts landmark with a best-in-class streaming platform. The result is an intimate, memorable and immersive fan encounter and a rare and exceptional experience for ticket-buyers. Tom Ewald, Flymachine's VP of Sales, spoke about their decision to do business with the nonprofit venues. "The Boch Center Flymachine partnership offers artists the opportunity to stream performances from arguably one the most beautiful venues in the county. Using cinema-grade equipment, it will provide a platform where fans can enjoy shows at home while hanging out with their friends online."
The Boch Center offers 200+ performances for 400,000+ audiences each year. They boast an impressive variety of programming which includes popular and classical music, dance, Broadway musicals, comedy, family entertainment and more. A wide array of artists from diverse cultural backgrounds perform on their historic stages – from internationally renowned legends to emerging artists and local ensembles. Their extraordinarily successful Ghost Light Series, a live music program that featured artists performing to an empty Wang Theatre, was viewed virtually by over 400,000 people during their 20 month pandemic shutdown, and it was the catalyst for their search for a long-term livestream partnership.
Brian Gale, the Boch Center's VP of Booking and Marketing, expressed his enthusiasm for the partnership and new technology, "The Flymachine platform truly brings the feeling of a live show to virtual events. In addition, it allows the fans a way to interact and feel like they're really together at the Boch Center show. From a booking standpoint it not only opens up an additional revenue stream, but more importantly, it allows us to offer an additional platform for artists to reach their fans both in the Boston area as well as around the world. Our focus will not only be on traditional touring acts, but also offering it to our local partners that use the theatres for non-profit events, education initiatives and community outreach. I look forward to working with everyone at Flymachine on this fantastic partnership."
Chris Sampson, Flymachine's head of talent and artist relations, adds, "They have an incredibly diverse roster of both domestic and international programming, from music and podcasts, to dance and wellness, as well as a focus on underserved audiences. Flymachine is thrilled to work with the committed, passionate team at the Boch Center."
ABOUT FLYMACHINE
Flymachine is pioneering the digital future of live events. A virtual venue for live entertainment, Flymachine creates a new, customizable experience in a digital world offering the thrill fans enjoy at live events. For the first time, fans have the agency to choose how they experience live entertainment socially - from the comfort of home, with friends and fellow fans from around the world. Flymachine was conceived by the founders of Ticketfly, Superfly, [namethemachine], and ATC Management. The company is headquartered in the San Francisco Bay Area. For more information, follow us on Instagram, watch our launch video, or visit www.flymachine.com.