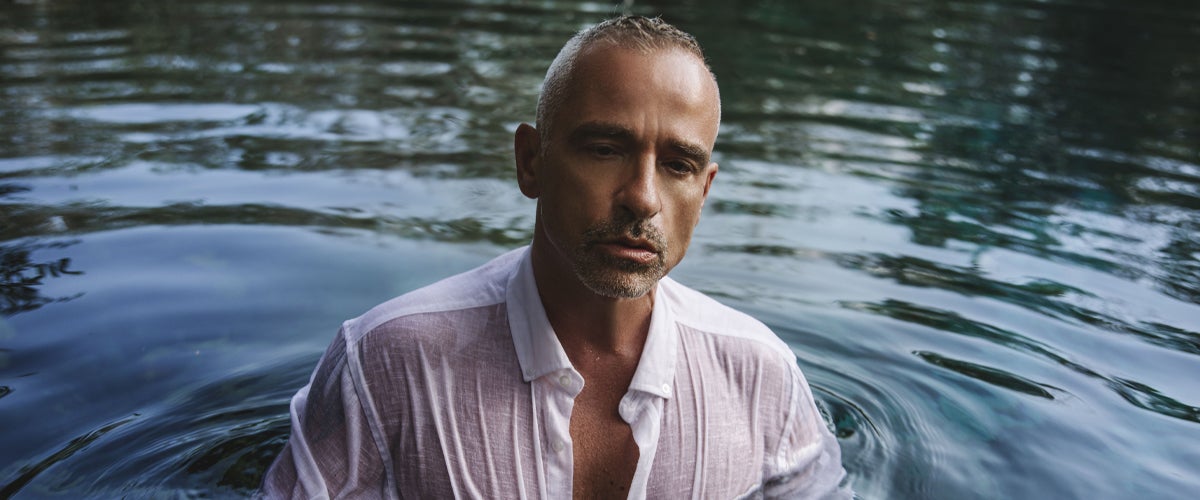 Eros Ramazzotti
Battito Infinito Tour
Date

Nov

14

, 2022

Event Starts

8:00 PM

Venue

Wang Theatre

Ticket Prices

Start at $49

Availability

On Sale Now

Parking
Showings
Event Details
Eros Ramazzotti es sin duda uno de los artistas más exitosos, con canciones que han dejado huella en la historia de la música italiana y se han oído por todo el mundo: 70 millones de discos vendidos, 2 mil millones de reproducciones y casi 2 mil millones de visitas en YouTube.

Después de 14 álbumes de estudio, giras europeas y mundiales completamente agotadas, innumerables premios, certificaciones y reconocimientos, ahora celebra 35 años de carrera con el WORLD TOUR PREMIÈRE - diez avances exclusivos para un nuevo capítulo en su carrera artística y musical, en cinco de los escenarios más prestigiosos del mundo, comenzando el 15 de septiembre de 2022 en La Maestranza en Sevilla, luego en Agrigento, Verona, Atenas y Cesárea.
En noviembre de 2021, fue el primer artista italiano en firmar un acuerdo global para su actividad artística en todo el mundo: un acuerdo entre Radiorama - la empresa que produce toda la obra artística de Ramazzotti, y Vertigo, una empresa italiana que forma parte de la Eventim Live International group, un gigante del entretenimiento alemán. Por primera vez, un artista italiano se ha asociado con una sola entidad, líder en el campo de la producción en vivo, en todos los aspectos de su carrera.
El último álbum con canciones inéditas de Eros, "Vita ce n'è", data de 2018, seguido de una colosal gira de más de 90 espectáculos en 32 países de todo el mundo, el "Vita Ce N'è World Tour", que comenzó en el Olympiahalle de Munich con una doble actuación y entradas agotadas. El álbum marca el inicio del proyecto de remasterización y reedición en vinilo y en formato digital de los discos que han marcado su recorrido artístico, un viaje musical por múltiples etapas para redescubrir un catálogo atemporal: "Dove C'è Musica", "Nuovi Eroi", "Tutte Storie", "ER9S", "Stilelibero", "In Ogni Senso", "In Certi Momenti".
English Translation:
Eros Ramazzotti is unquestionably one of the most successful artists, with songs that have marked the history of Italian music and have been heard around the world: 70 million records sold, 2 billion streams and almost 2 billion views on YouTube.

After 14 studio albums, completely sold out European and world tours, innumerable awards, certifications and acknowledgements, he is now celebrating 35 years of his career with the WORLD TOUR PREMIÈRE - ten exclusive previews for a new chapter in his artistic and musical career, in five of the most prestigious arenas in the world, starting on 15 September 2022 at La Maestranza in Seville, then in Agrigento, Verona, Athens and Caesarea.
In November 2021, he was the first Italian artist to sign a global deal for his artistic activity around the world: an agreement between Radiorama – the legacy company that produces all of Ramazzotti's artistic work - and Vertigo, an Italian company that is part of the Eventim Live International group, a German entertainment giant. For the first time, an Italian artist has partnered with a single entity, a leader in the field of live production, on all aspects of his career.
The last unreleased album of unreleased songs by Eros, "Vita ce n'è" dates back to 2018, followed by a colossal tour of over 90 shows in 32 countries around the world, the "Vita Ce N'è World Tour", which started at the Olympiahalle in Munich with a double sold out performance. The album marks the beginning of the project of remastering and reissuing on vinyl and in digital format the records that have marked his artistic journey, a musical voyage through many different stages to rediscover a timeless catalog: "Dove C'è Musica", "Nuovi Eroi", "Tutte Storie", "ER9S", "Stilelibero", "In Ogni Senso", "In Certi Momenti".
Click here to learn more about VIP packages.
Please be aware that our Covid-19 Policy and Safety Measures have changed per the revisions to the City of Boston's vaccine requirement for certain indoor spaces. Unless required by a specific Artist or attraction, we no longer require proof of vaccination against Covid-19 or masks in our facilities.

PLEASE NOTE: Restrictions and safety protocols may vary by performance. Be sure to visit your specific show's event details page immediately prior to each performance and to carefully read our pre-performance emails for important information pertaining to your performance. Certain artists and performances may still require masks and/or proof of vaccination for entry.
By purchasing tickets to this event, you agree to abide by these, and any other, health and safety measures that may be in effect at the time of the event. Please continue to check our venue website for updates to your event as guidelines are subject to change.